Graduate Studies DEI Events
Graduate studies hosts a variety of events and activities that are designed to build community and enhance the opportunities for success for graduate students and postdoctoral scholars from historically excluded populations. We highly encourage students to participate in these activities, as they will ensure a more rich and fulfilling graduate school/postdoctoral experience.
Graduate Studies Movie Night!!!
It's finally happening!!! We're doing a trial movie night to gauge interest. Please tell your friends!
Bring a chair or a blanket and your favorite snacks!
Date: Tuesday, August 16, 2022
Location: Walker Hall North Lawn
Time: 8:00 pm - 10:30 pm
Movie selection: to be determined!
CLICK HERE TO VOTE ON A MOVIE!
*Please note: 
The only restrooms available will be the ones located inside of the 24-hour study room in Shields library. Otherwise, come with empty bladders & bowels :-).
If you have accessibility needs, please email graddiversity@ucdavis.edu
This event is in person and open to the UC Davis campus public. 
---
2022 GSoC+ Summer Research Symposium
The Graduate Scholars of Color+ student group is organizing their first ever Graduate Student Summer Research Symposium, which will showcase the outstanding quality and diversity of graduate-level research at UC Davis being conducted by masters and doctoral students from historically marginalized communities. The symposium will provide students with the opportunity to practice and enhance their communication skills with those outside of their discipline. Students will have an opportunity to present their dissertation/thesis projects during the poster session or in the form of a short talk. The symposium will also feature a keynote address from a previous UC Davis graduate student who has already graduated.
The event is open to the public. 
Symposium Information 
Event date: Friday, August 26, 2022 | 9:00 am - 12:00 pm | Graduate Center at Walker Hall*
Registration will close on Friday, August 12, 2022 at 11:59 pm
*This is an in-person event
---
Weekly Yoga on the Lawn
Please join us every Wednesday at 6:00 pm for free yoga on the Walker Hall North Lawn* (the one on the side of Walker Hall that is facing Hart Hall and Shields Ave.).
CLICK HERE if you need a yoga mat!
Bring your mats, some water to hydrate, and be sure to wear sunscreen!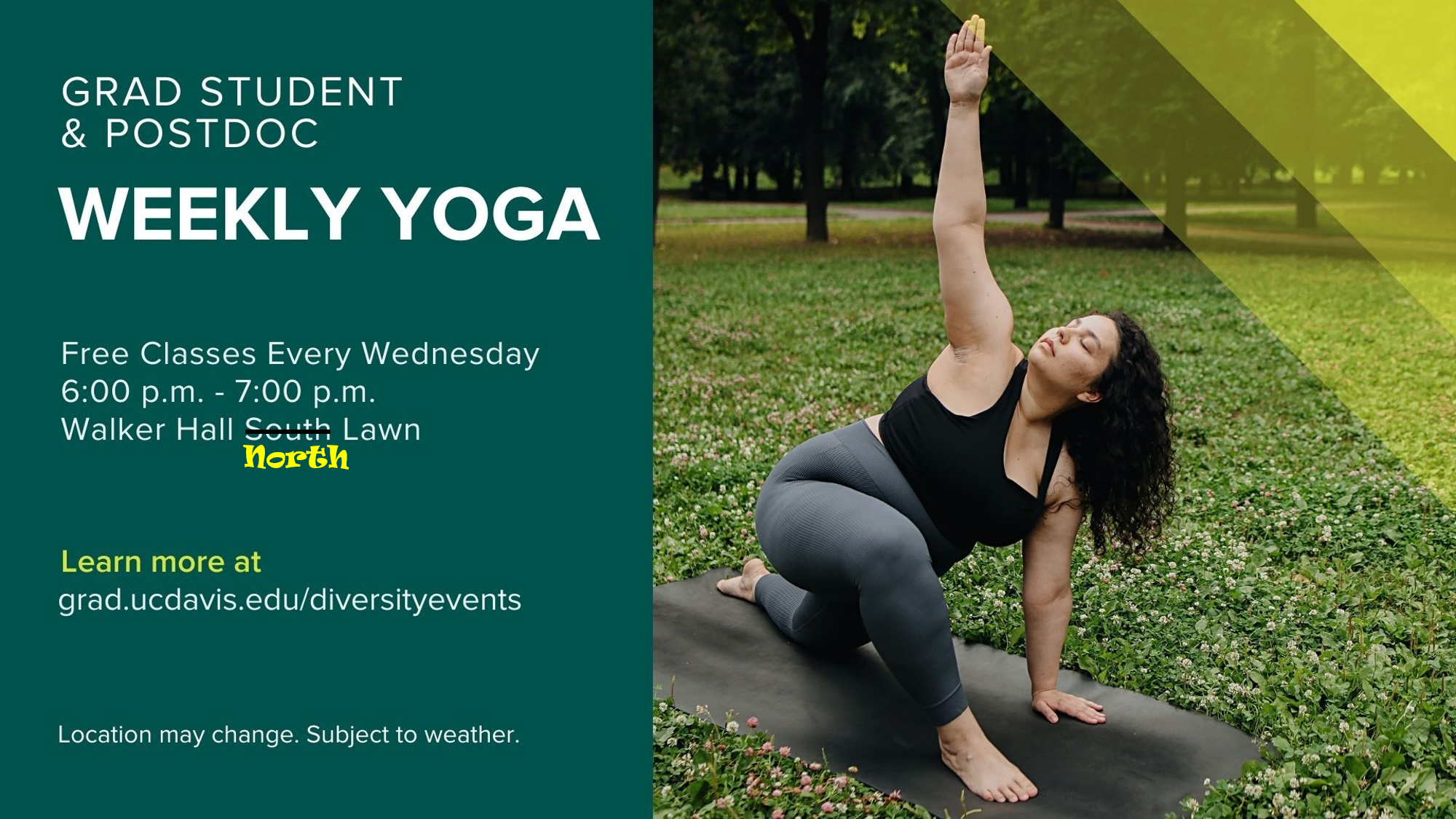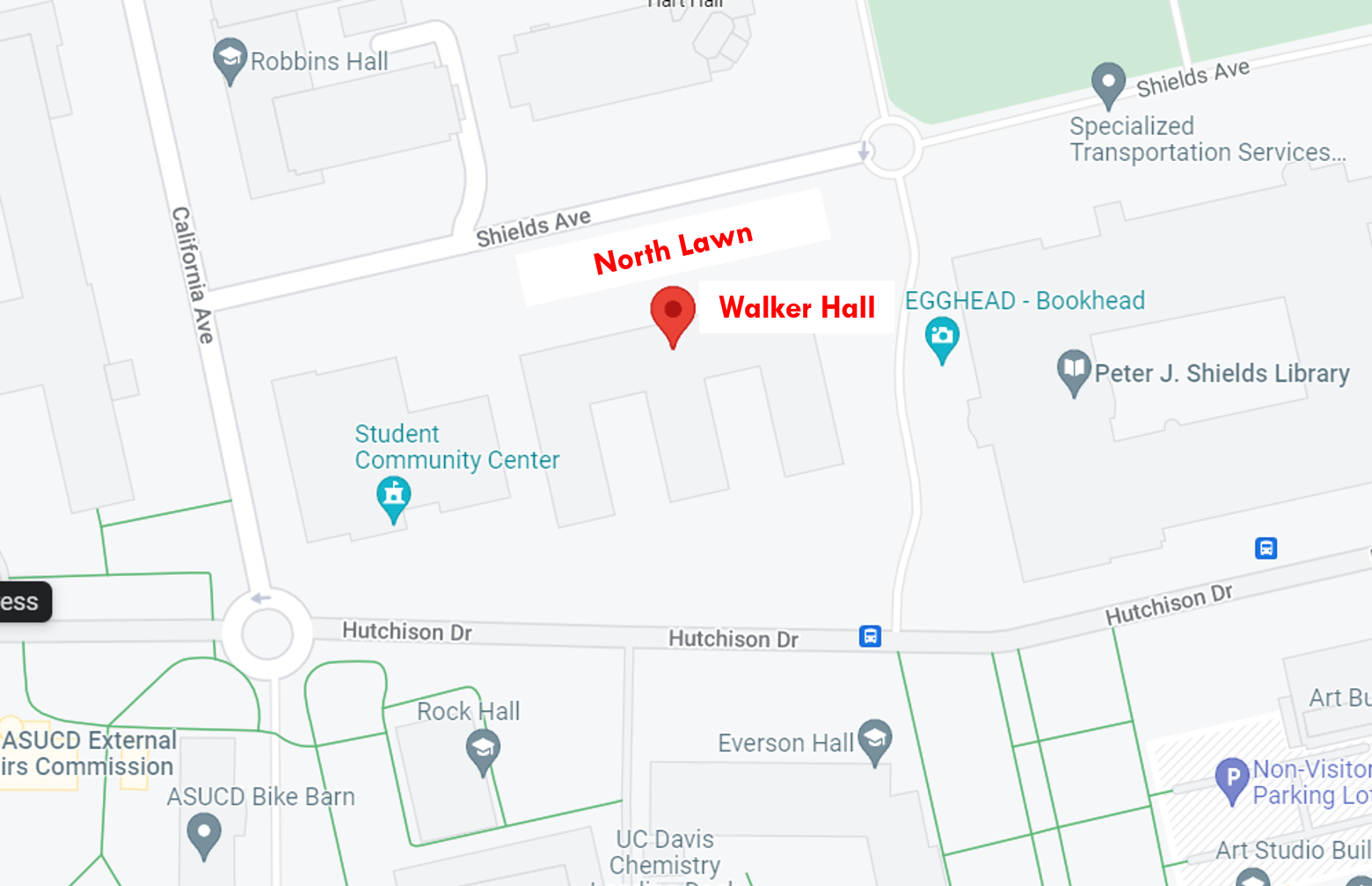 About the instructor
Laura earned her PhD in Atmospheric Science from UC DAVIS in March 2020. Her research explored how canopy structure influences the vertical and spatiotemporal distribution of snow, utilizing the Advanced Canopy-Atmosphere-Soil algorithm (ACASA), a multi-layer soil-vegetation-atmosphere numerical model and how it simulates the effect of different snow-covered canopy structures on the energy budget, and temperature and other scalar profiles within different forest types in the Sierra Nevada, California. Since graduating in 2020, Laura joined Sac State's Department of Geography in the College of Natural Sciences & Mathematics where she teaches Global Climatology as a part-time lecturer. When not in the classroom, you can find Laura outdoors competing in OCR (Spartan races), enjoying CrossFit and teaching yoga in her local community.
*Look for updated locations during inclement weather.