Jeni Lee
What matters to Jeni?
Quick Summary
Achieving gender equality in STEM fields through educational outreach and entrepreneurship.
Jeni Lee, a PhD candidate in biomedical engineering with a passion for outreach, always knew she wanted to combine her education and training with industry and technology commercialization, particularly in regard to regenerative medicine as the next wave of clinical therapies. Lee was drawn to the Sacramento region as a burgeoning hub of medical technology and research, and to UC Davis in particular for its prominent and interdisciplinary "research triad"— the College of Engineering, School of Veterinary Medicine and Medical Center. A strongly interdisciplinary field, biomedical engineering spans the length of biology—"from the mechanics of molecular switches to the mechanics of whole body motion." In her career thus far, Lee has worked with stem cell biologists, orthopaedic surgeons, veterinary surgeons, and mechanical and electrical engineers, all of whom have helped guide her research in cartilage tissue-engineering. "Participating in such interdisciplinary research has taught me to appreciate the bigger picture," she says, "to consider how our work impacts and can be influenced by other fields."
Lee's research focuses on engineering robust and functional cartilage tissue replacements for treating arthritis, a disease affecting over 25 million Americans. Current treatments either focus on alleviating patient pain or are end-stage options such as joint replacement. Lee's goal is to create a biological product to bridge these treatment extremes, delaying the need for joint replacement.
A member of Dr. Kyriacos Athanasiou's Graduate Group, Lee feels fortunate to be supported by the lab's NIH funding. Her group also applied for external funding, guided by Dr. Judy Kjelstrom, director of the biotechnology program, which garnered Lee a two-year NIH T32 training grant. The grant allows her to focus her full attention on her education and research interests in regenerative medicine.
In addition to her graduate group, the Biomedical Engineering Entrepreneurship Academy (BMEA) has played a key role in Lee's graduate career. The boot camp-style workshop – part of the UC Davis Graduate School of Management and the Child Family Institute's Entrepreneurship Academies – teaches participants the hands-on intricacies of starting a business.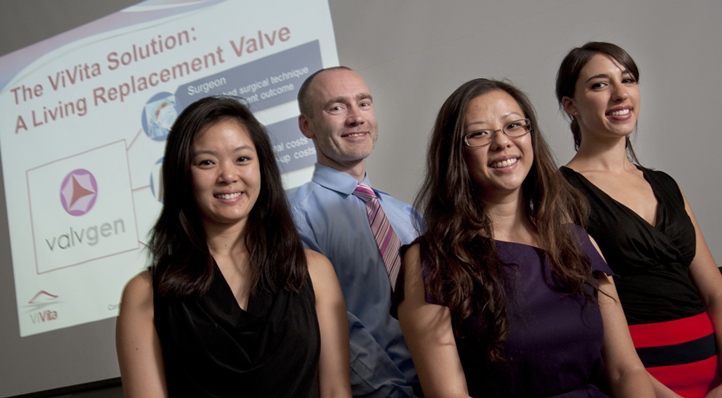 Lee's BMEA team founded ViVita Technologies Inc., specializing in tissue engineering. ViVita won first place and the People's Choice Award at the 2013 Graduate School of Management's Big Bang! Business Plan Competition. The experience not only resulted in a monetary award, but bolstered her experience and confidence in speaking to investors, CEOs, and seasoned entrepreneurs.
Lee also found her participation in the Career Explorations Through Internships (CETI) program to be invaluable. "CETI is led by fantastic individuals who have vast experience in career and professional development training," she says. The program helped her reflect on her values, interests and skill sets so she could pinpoint the career opportunities that best suited her. CETI also connected her to other graduate students. "My CETI group turned into one of the best support networks I've found here," said Lee. "The students are ambitious, but not competitive – we all want to help one another succeed."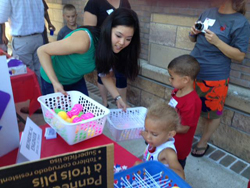 On the social side, the "close-knit, friendly and welcoming" UC Davis community helps keep her balanced. Lee frequently participates in graduate student recruitment events as well as various outreach/volunteer opportunities, such as with the Association for Women in Science and the Science Communications Fellowship program through the Powerhouse Science Center. In supporting gender equity in science, technology, engineering, and mathematics (STEM) fields, Lee and fellow graduate student Nicole Chaffee, in collaboration with the Biotechnology Program, co-led the first Women in Leadership Seminar Series aimed to highlight gender inequities worldwide and to inspire the next generation of future leaders. Lee is committed to achieving gender equality in STEM fields through educational outreach and entrepreneurship.
"The immense number of opportunities provided by UC Davis—including CETI, the biotechnology program, BMEA, and the Big Bang! — speak to the university's investment in developing the graduate student community to become leaders who are not only successful, but happy and content in what they do," says Lee. "UC Davis has absolutely prepared me for a career related to the business of science, entrepreneurship, and business development."
"My best advice for incoming graduate students is to take advantage of every opportunity that interests you – do yourself a favor by making the time to participate in these opportunities."
Check out the video of ViVita's presentation at the Big Bang! - The annual UC Davis Business Plan Competition is hosted by the UC Davis Child Family Institute for Innovation and Entrepreneurship and organized by MBA students of the Graduate School of Management. 
Secondary Categories