Laura Lindenfeld to Deliver 2022 Graduate Studies Commencement Address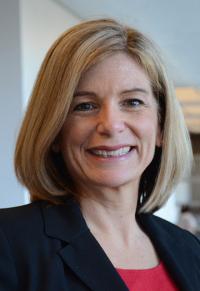 Alumna and communication researcher Laura Lindenfeld Ph.D. '03 will return to UC Davis as the keynote speaker for the 2022 Graduate Studies Commencement on Thursday, June 9, at the University Credit Union Center.
Lindenfeld is the Dean of the School of Communication and Journalism and a professor of journalism at Stony Brook University, where she oversees a team of dedicated faculty and staff, including Pulitzer Prize winners, to educate and train the next generation of multimedia journalists and communication professionals.
Lindenfeld also serves as the Executive Director of the Alan Alda Center for Communicating Science, an organization that has trained more than 20,000 scientists from around the world. Founded by actor Alan Alda, the Center provides international leadership in conducting and connecting research to practice to advance effective science communication. The organization's programming is based on the Alda Method, a form of communication training that blends improvisational theater exercises and message-design strategies. Lindenfeld and her staff brought the Center's training to UC Davis in 2018, spending three days teaching scientists, faculty, students, and staff members.
Lindenfeld holds a Ph.D. in Cultural Studies from the University of California, Davis. As a communication researcher, her work focuses on how we can advance meaningful, productive interactions with communities, stakeholders, and decision-makers by strengthening linkages between knowledge and action. Much of Lindenfeld's research has focused specifically on environmental and sustainability communication.
The Graduate Studies Commencement will also be shown live via a webcast on the UC Davis Commencement website for friends and family members unable to attend the ceremony.

For more information about the 2022 Graduate Studies Commencement Ceremony, visit the Graduate Studies Commencement site.
Primary Category
Secondary Categories