Ringing in a New Era for Graduate Education
Graduate Center at Walker Hall opens to a crowd of supporters ringing bells
On April 8, a crowd of dozens of UC Davis supporters—alumni, faculty, staff and graduate students—all seated under a tent outside Walker Hall excitedly yelled out in unison, "Five, four, three, two, one!" 
With that, the sound of melodic clanking filled the air as members of the UC Davis and Graduate Studies community rang ceremonial bells to commemorate the grand opening of the Graduate Center at Walker Hall. 
"As scholars, researchers, teachers and community builders, our graduate community has broad impact, helping shape UC Davis and beyond," said Chancellor Gary S. May who rang the newly gifted bell from Brian K. Sanders, Ed.D. '14 that will be a permanent fixture inside the Graduate Center. "No matter the field, the new Graduate Center provides a dedicated space for them to support and focus their efforts."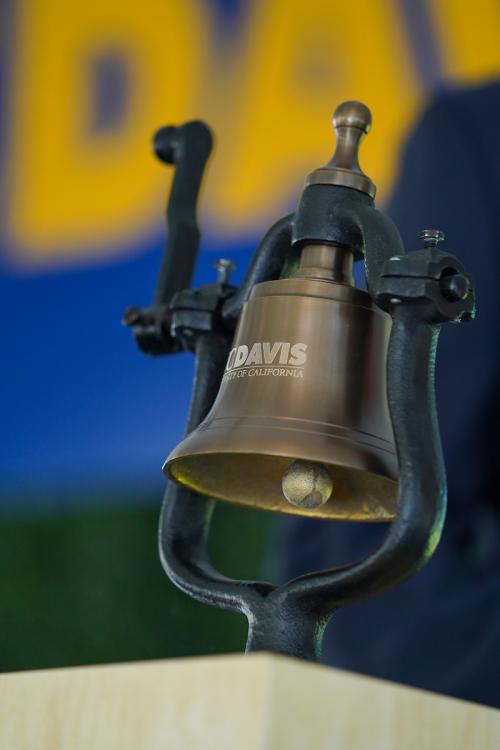 First of its kind
The newly renovated Graduate Center at Walker Hall is the first of its kind in the University of California system—a space specifically for the graduate and postdoctoral communities at UC Davis. Centrally located near the heart of campus and adjacent to the UC Davis Library, the Center is intentionally designed to promote interdisciplinary interactions and build a community for UC Davis' 7,000 graduate and professional students and nearly 1,000 postdoctoral scholars.
"Even though the Graduate Center will serve as a hub for graduate advising, professional development, and diversity resources, it is above all else a community space," said Vice Provost and Dean of Graduate Studies Jean-Pierre Delplanque. "It is my sincerest hope that this newly dedicated space will serve as the foundation for a new form of graduate community."
Space fosters collaboration
The space supports the academic, professional and personal success of the graduate student and postdoctoral scholar community at UC Davis. It also is the new home of the Graduate Student Association (GSA), the GSA Graduate Student Association Pantry, the Postdoctoral Scholars Association and many other programs intended to support graduate students and help them build community at UC Davis.
"There are not many places on campus specifically for graduate students so many of us spend time in our respective buildings and labs, disconnected from the rest of campus. But building community among graduate students is a key piece in ensuring our success," said Jonathan Minnick, GSA president. "Through community we find our friends, establish our support networks, find a cause to fight for, and discover opportunities for collaboration. The Graduate Center opens doors that never existed before, becoming the hub for graduate student life."
Appreciative to have a space for graduate students
Graduate students who attended the ceremony were thrilled to have new space specifically for them. Fifth-year doctoral student in ecology, Fred Nelson, said he is especially excited about the meeting spaces and the white board that takes up an entire wall.
"I love it! It's an innovative space. I mean, look at all these windows. I work in a windowless office, so this is a breath of fresh air," Nelson said. "It's also nice that it's centrally located so we can have a quiet place to study just for graduate students and it's easy to get to."
International doctoral student Carolina LeCompte said she appreciates that the Center provides a quiet place to study and a special area for graduate students who are parents.
"I don't have kids, but I like that they have a parent room," she said. "I feel comfortable in the Graduate Center. It's so central and I really appreciate that it's a quiet space. When I really need to read and focus, it's my go-to space. "
A dream 20 years in the making
The creation of a Graduate Center on campus has been a long time coming—20 years to be exact. Bob Seager, associate vice chancellor of campus planning and environmental stewardship who has been working on the project since that time, said the opening of Walker Hall has a greater significance to the university overall.
"Walker Hall and the promenade isn't just a nice place, it connects our arts and sciences with our engineering departments and welcomes everybody into the heart of the campus," he said. "Part of the experience we want for students is for them to meet new people and get exposed to new ideas. That will happen every day at the Graduate Center." 
Bridging the old and the new
Walker Hall, which was originally dedicated as the Agricultural Engineering Building in November 1928, is one of the oldest buildings at UC Davis. Throughout its almost 100-year history, the building has housed numerous departments including designing, engineering and applied sciences. It closed in 2011 and was vacant for nearly 10 years until it opened to graduate students in the fall of 2021 and to the Graduate Studies community at large in the spring of 2022.  
"Walker Hall now represents the old and the new, our memories and our aspirations," Delplanque said. "Walker Hall was, is and will be a place where communities are created and expanded. Where we will honor our past while actively forging our future." 
Members of the Graduate Student community are invited to visit the Graduate Center at Walker Hall. To schedule an appointment, contact gradcenter@ucdavis.edu.
Primary Category
Secondary Categories