Finding Love in Walker Hall
UC Davis staffers met at Walker Hall
From 1928 until 2011, Walker Hall was a place where faculty, staff and students engaged in a wide range of cutting-edge research and development.
UC Davis retirees Ted and Silvia Hillyer are no exception. As a mechanical engineer, Ted joined UC Davis staff in 1974, having been recruited by the chairman of the Department of Applied Science, which was primarily housed at the Lawrence Livermore National Laboratory.  Ted was responsible for designing graduate research laboratories at Walker Hall.
In 1980, Silvia was hired for a clerical position in Applied Science. The two met on campus, became friends, and then, something more.
After the couple married and bought their current house in Woodland, Calif. Silvia moved to a position in the Environmental Science and Policy Department in the Cooperative Studies Unit – a stepping stone to her 22-year position as a student affairs officer with the Graduate Group in Ecology.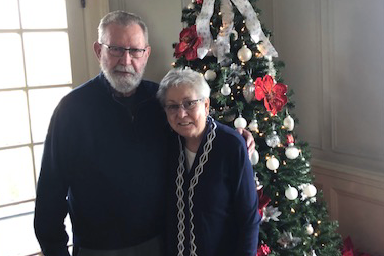 Grad students find love
Her new work took her out of Walker Hall, but her marriage to Ted helped bridge partnerships with other departments during their time at UC Davis. For example, they led week-long, pre-orientation trips together every summer to the Sierras for 14 years to create opportunities for their graduate students to develop relationships that would sustain them through the rigors of a "very demanding" graduate program, Silvia explained.
"The idea behind the trips was not only to get them excited about what's available for research out there, but to build networking, community and cohesiveness in their cohort, and have study groups come out of it," said Ted.
Some of those student relationships blossomed into marriages. For instance, Ted and Silvia recently received a card with family pictures from early former students with whom they traveled to Botswana, Africa for a research project. Ted and Silvia are also godparents to another couple's children.
"We have been blessed to develop relationships with many, many people over the years, and we're still in touch with a lot of them," she said. "Half of (my job) was having people skills. We became a confidante (to students), and that's something that's not in your job description at all."
A passion for giving
These long-lasting relationships are clear evidence of how much Ted and Silvia have given of themselves to UC Davis throughout their careers. But that was not enough for them. They wanted to give more—and funding for student research is something they've become passionate about.
"There are various sources of funding available to grad students," said Silvia. "But it's never enough. I heard from many students that they couldn't conduct their research because they didn't have enough funding. I decided we needed to do something about it."
The couple established an endowment for graduate student support as part of the Charles J. Soderquist Matching Fund Initiative. Each year, this fellowship alternates between the programs where the couple gave their careers: first funding students in the Graduate Group in Ecology, and then students in the College of Engineering.
Silvia has also helped establish several other endowments, including the Fish Fundraiser Endowment, the Jim Micheletti Endowment, the Ted and Angela Foin Endowment, the Kit Rice Endowment (Kevin J. Rice) and the UC Davis Retiree Association Scholarship Fund. Additionally, the couple have established a planned gift of 10 percent from their estate after their passing.
"I wish more people would do that," Silvia said. "We figure, we've done our job with our children and they have good careers and they're pretty well established. They don't really need our money."
Ted added, "What better place for it to go? Go Aggies!"
Primary Category
Secondary Categories