Grad Slam Finalist Profile: Animal Biology Graduate Student Samantha Werth
Meet Samantha Werth, Animal Biology Graduate Student and Grad Slam Finalist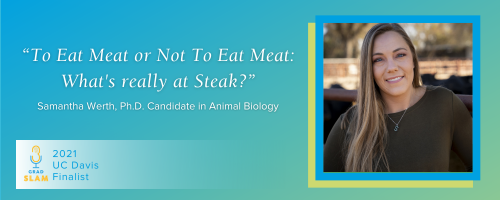 Name
Samantha Werth (she/her) 
Program, Degree, and Year of Study
Animal Biology, Ph.D., 6th year
Research Interest
Sustainable Livestock Production
Previous Degree(s) & College(s)
B.S. in Animal Science from UC Davis
M.S. in Animal Biology from UC Davis
Title of Grad Slam Presentation
To Eat Meat or Not To Eat Meat: What's Really at Steak?
Describe your presentation style in three words. 
Thought Provoking, Concise
What did you do to prepare for Grad Slam?
To prepare for Grad Slam, I first worked out a script with the goal of describing the key points of my research in as few words as possible. After practicing my presentation several times, I narrowed down the script even further, making sure that I could successfully get through everything in the three minute time cap. 
I also talked a lot with people outside of my program about my research so that I could learn from those interactions on how best to present my work to those outside of my field.
What initially attracted you to your field of study?
As a San Diego native with no background in agriculture, my time as an undergraduate Animal Science major at UC Davis really helped to shape my research interests. My coursework taught me the "how?" and "why?" behind livestock production, and instilled in me a respect for agriculture and those who produce our food. 
In my coursework, I also learned about the 2050 Challenge—the need to feed a growing global population in the face of climate change. These learning experiences led me to question, "How can we produce more food with fewer resources in order to meet the nutritional needs of a growing global population?" The possibility to help answer this question and work towards creating a sustainable food supply is what attracted me to my field of study: sustainable livestock production.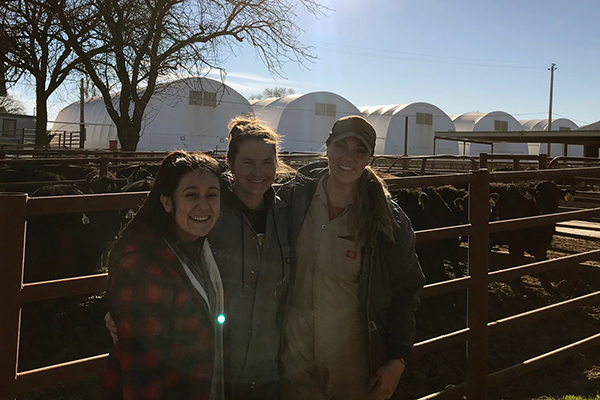 Grad Slam is about presenting complex ideas for a general audience. Why would people want to learn more about your research?
How our food choices impact the environment is a prevalent topic today. It is common to see foods pitted against each other as one being more sustainable than another. However, this discussion around the sustainability of our food choices rarely takes into account the full scope of sustainability or of food production. 
With my research I aim to present a more complete picture of what sustainable food production means and what trade-offs might be associated with our food choices so that people can make informed decisions on what foods to eat and feel confident with those decisions.
What do you like to do in your free time?
I'm currently full steam ahead on writing my dissertation so free time is a thing of the past. But when I am able to step away from my computer I enjoy going to workout at my local gym, Performance 22, or going for walks with my housemate and her two French bulldogs. I also enjoy getting out of Davis to hike and to explore restaurants in Sacramento, Napa, and San Francisco. 
Do you have any mentors who helped you develop your interest and strength in research communication? If so, how did they help you?
My PI, Dr. Frank Mitloehner, has been instrumental in helping me to develop my interest and strength in research communication. Throughout my time in his lab, Dr. Mitloehner has conveyed to me the importance of communicating the work that we do and to do so in a manner that is digestible for any audience. 
He has also instilled in me the importance of keeping the science at the forefront of everything that we do. Dr. Mitloehner has provided me with several opportunities to present my research and interact with people at a variety of events, from this I have learned how to engage with people of varying backgrounds and how to effectively communicate my research.
Where do you see yourself in 10 years?
In 10 years I hope to be working as a key policy advisor at the state or federal level. I plan to apply my expertise and use an evidence-based approach to inform policymakers on the science behind topics related to agriculture, livestock, and the environment.
Learn More About UC Davis Grad Slam Finalists
Good luck at the competition, Samantha. Be sure to read all of the Grad Slam Finalist Profiles. 
---
Watch the Final Round Virtual Competition
This year, the continuing COVID-19 pandemic has added a new video component to the already challenging public speaking event. The finalists will compete against each other at the UC Davis Final Round during National Graduate and Professional Student Appreciation Week. Cheer on the Grad Slam finalists virtually on Thursday, April 8, from 1:00 p.m. - 3:00 p.m. RSVP to reserve your spot!
The winner of the campus final round will have the opportunity to compete at the University of California-wide competition on May 7.  In 2019, UC Davis champion and Plant Biology Ph.D. candidate Katie Murphy went on to win the top University of California prize of $6,000. Visit the Grad Slam website to learn more about UC Davis Grad Slam. 
---
UC Davis Grad Slam Sponsors
Graduate Studies would like to thank this year's UC Davis Grad Slam sponsors for their generosity and support.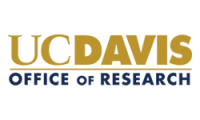 The Office of Research serves as the primary campus resource for matters related to research and technology commercialization. OR provides services and resources to simulate research, facilitate collaborations,  optimize infrastructure, ensure compliance and  translate innovations into commercial applications for societal benefit. Learn more by visiting the UC Davis Office of Research website.
Public Scholarship and Engagement (PSE) is fostering a culture of engagement at UC Davis that increases the university's impact through mutually-beneficial relationships that have local, regional, statewide, and global reach. We envision UC Davis research, teaching and learning that serves society and makes a positive difference in the world. Learn more by visiting the Public Scholarship and Engagement website.

Global Affairs brings the world to UC Davis, welcoming more than 10,000 international students, scholars and leaders, and hosting programs that inspire global curiosity, understanding and engagement. Compelled by the valuable outcomes of thinking globally, we make transformative opportunities a reality by supporting the thousands of students and faculty learning and researching globally—and by facilitating collaborations that tackle the world's most pressing challenges through more than 150 global partnerships. Putting our vision of a UC Davis community that engages, thrives, and leads in this interconnected world into action, Global Affairs is in pursuit of an ambitious goal: Global Education for All.
---
About Graduate Studies
Graduate Studies at UC Davis includes over 100 dynamic degree programs and a diverse and interactive student body from around the world. Known for our state-of-the-art research facilities, productive laboratories and progressive spirit – UC Davis offers collaborative and interdisciplinary curricula through graduate groups and designated emphasis options, bringing students and faculty of different academic disciplines together to address real-world challenges.
UC Davis graduate students and postdoctoral scholars become leaders in their fields: researchers, teachers, politicians, mentors and entrepreneurs. They go on to guide, define and impact change within our global community.
For information on Graduate Studies' current strategic initiatives, visit the Graduate Studies strategic plan page.
Secondary Categories