Grad Slam Finalist Profile: Immunology Graduate Student Chelsea Kelland
Meet Chelsea Kelland, Immunology Graduate Student and Grad Slam Finalist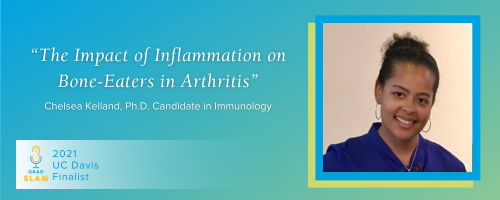 Name
Chelsea Kelland (she/her)
Program, Degree & Year of Study
Graduate Group of Immunology, Ph.D., 3rd Year
Research Interest
Osteoimmunology and Autoimmunity
Previous Degree and College
B.S. in Biology with dual-minor in Chemistry and Spanish from Xavier University of Louisiana
Title of Grad Slam Presentation
The Impact of Inflammation on Bone-Eaters in Arthritis
Describe your presentation style in three words
Conversational, Engaging, Concise
What did you do to prepare for Grad Slam?
In undergrad, I took a 'Science Communications' course, which interested me in presenting science as a speech, versus the conventional style of PowerPoint and poster presentations. The lack of visuals made preparing the speeches much harder. However, it gave me the tools and 'know-how' to break down these large, intricate concepts into simpler scenarios that everyone can understand. I applied these same methods to create my Grad Slam presentation on my current work.
What initially attracted you to your field of study?
I'm an immunologist at heart. I've been fascinated with the human body and its many systems since I was a child playing operation. Over time this fascination and curiosity morphed into a passion for science and medicine. Finally, my experiences in biomedical research as an undergrad confirmed my desire to perform research and immunology. It just felt like the perfect fit for me and my interests.
Grad Slam is about presenting complex ideas for a general audience. Why would people want to learn more about your research?
I think people have a misconception about arthritis and its many forms. We are taught that this is a disease that 'just happens' when, in actuality, it's much more complex. I want them to recognize this and become more engaged in the work that my lab, and other labs, are performing.
What do you like to do in your free time?
I love to watch movies, go on long walks, and (when the world is open again) go to the gym.
Do you have any mentors who helped you develop your interest and strength in research communication? If so, how did they help you?
I was first introduced to research my freshman year of college when I studied Hereditary Spastic Paraplegia under the tutelage of Dr. Thomas Huckaba. This experience introduced me to the world of research and its endless possibilities—I've been hooked ever since. 
Where do you see yourself in 10 years?
I plan to pursue a career in academia as I want to function as a mentor to marginalized and minority undergraduate students interested in research and graduate studies. As such, I see myself working as a faculty member conducting research in a university environment in ten years.
Learn More About UC Davis Grad Slam Finalists
Good luck at the competition, Chelsea. Be sure to read all of the Grad Slam Finalist Profiles. 
---
Watch the Final Round Virtual Competition
This year, the continuing COVID-19 pandemic has added a new video component to the already challenging public speaking event. The finalists will compete against each other at the UC Davis Final Round during National Graduate and Professional Student Appreciation Week. Cheer on the Grad Slam finalists virtually on Thursday, April 8, from 1:00 p.m. - 3:00 p.m. RSVP to reserve your spot!
The winner of the campus final round will have the opportunity to compete at the University of California-wide competition on May 7.  In 2019, UC Davis champion and Plant Biology Ph.D. candidate Katie Murphy went on to win the top University of California prize of $6,000. Visit the Grad Slam website to learn more about UC Davis Grad Slam. 
---
UC Davis Grad Slam Sponsors
Graduate Studies would like to thank this year's UC Davis Grad Slam sponsors for their generosity and support.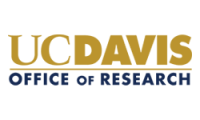 The Office of Research serves as the primary campus resource for matters related to research and technology commercialization. OR provides services and resources to simulate research, facilitate collaborations,  optimize infrastructure, ensure compliance and  translate innovations into commercial applications for societal benefit. Learn more by visiting the UC Davis Office of Research website.
Public Scholarship and Engagement (PSE) is fostering a culture of engagement at UC Davis that increases the university's impact through mutually-beneficial relationships that have local, regional, statewide, and global reach. We envision UC Davis research, teaching and learning that serves society and makes a positive difference in the world. Learn more by visiting the Public Scholarship and Engagement website.

Global Affairs brings the world to UC Davis, welcoming more than 10,000 international students, scholars and leaders, and hosting programs that inspire global curiosity, understanding and engagement. Compelled by the valuable outcomes of thinking globally, we make transformative opportunities a reality by supporting the thousands of students and faculty learning and researching globally—and by facilitating collaborations that tackle the world's most pressing challenges through more than 150 global partnerships. Putting our vision of a UC Davis community that engages, thrives, and leads in this interconnected world into action, Global Affairs is in pursuit of an ambitious goal: Global Education for All.
---
About Graduate Studies
Graduate Studies at UC Davis includes over 100 dynamic degree programs and a diverse and interactive student body from around the world. Known for our state-of-the-art research facilities, productive laboratories and progressive spirit – UC Davis offers collaborative and interdisciplinary curricula through graduate groups and designated emphasis options, bringing students and faculty of different academic disciplines together to address real-world challenges.
UC Davis graduate students and postdoctoral scholars become leaders in their fields: researchers, teachers, politicians, mentors and entrepreneurs. They go on to guide, define and impact change within our global community.
For information on Graduate Studies' current strategic initiatives, visit the Graduate Studies strategic plan page.
Secondary Categories