Guardian Professions Program Supports Former Foster Youth in Their Graduate Education
Hen Werner, a former foster youth and teacher of a senior class, in her classroom at Laguna Creek High School in Elk Grove, California.
UC Davis student Hen Werner was in the financial aid office filling out paperwork when she got to a field that stopped her short: "Parent Information." 
"I had to leave this part blank," Werner said to the financial aid officer as she handed in the paperwork. "I don't have anyone." Werner is a former foster youth.

The financial aid officer told Werner about UC Davis' Guardian Scholars Program, which is a UC Davis scholarship and mentorship program that helps former foster youth in receiving undergraduate degrees at UC Davis. Werner enrolled in the program and received financial and other assistance that allowed her to graduate from UC Davis with a 3.4 grade point average. Now, in addition to being a teacher at Laguna Creek High School in Elk Grove, California, Werner is pursuing a master's degree in education at UC Davis and is among the first cohort of UC Davis' new Guardian Professions Program.

The UC Davis Guardian Professions Program is the country's first program dedicated to helping former foster youth earn graduate and professional degrees. The program, which launched at UC Davis this fall, provides students with access to a support network of UC Davis staff members who help students as they apply for and pursue their graduate degree in any of the 94 graduate programs or professional schools at UC Davis, including education, law, business and medicine. The lack of a parental support network and financial support are the primary challenges facing former foster youths during their college careers.

The Guardian Professions Program was made possible because of more than $450,000 in private support from the Stuart Foundation, which seeks to transform education systems and improve the lives of youth in foster care. Other donors to the program include Sleep Train, The California Wellness Foundation, the May and Stanley Smith Charitable Trust, and Kronick, Moskovitz, Tiedmann & Girard Law Firm. The university is still raising funds for the program.

In addition to the support network, the program provides crucial financial support -- recruitment awards start at $1,000, and fellowships for the teacher credential/master's degree program cover tuition. Other graduate programs provide varying levels of financial support. In addition, the program provides funding to help students with the costs of applying to graduate school. Applying to UC Davis is free for students who have been in foster care.

According to research from the Stuart Foundation, 70 percent of foster youth express an interest in college, but only 10 percent enroll. Of that 10 percent, only 3 percent graduate from college. Preliminary research suggests there are currently no statistics on the number of former foster youth who have enrolled in or completed graduate and professional degrees.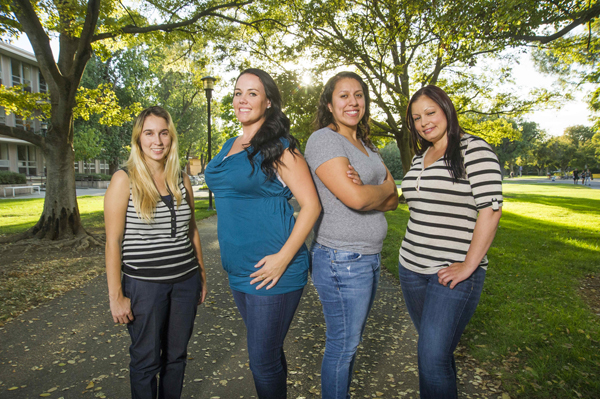 In addition to Werner, other members of the inaugural cohort in the Guardian Professions Program, all from California, include:
Michelle Dean of Santa Barbara, who is pursuing a master's in community development
Cindy Preto of Los Angeles, who is pursuing a master's in entomology
Destiny Garcia of Vacaville, who is pursuing a doctorate in mechanical engineering
Eden Haven-Martinez of Santa Maria, who is pursuing a teaching credential in English and a master's in education
"The financial help was a godsend, but they also helped me with test preparation, were there if I had questions, or even if I just needed someone to cheer me on," Werner said. "It made all the difference."

The Guardian Professions Program is housed in the Office of Graduate Studies and is an expansion of the UC Davis School of Education's successful Guardian Teachers Program, which provided former foster youth with an opportunity to pursue a master's degree and teaching credential at UC Davis. The UC Davis Guardian Scholars Program provides support solely to undergraduates. UC Davis also supports children and youth in foster care through Cal Aggie Camp, which is hosted by the Associated Students of UC Davis, or ASUCD, and has brought more than 150 children from the foster care system and underserved communities to summer camp since its founding in 1961. This is provided at no cost to parents, agencies, or foster parents. All these programs are funded primarily by philanthropic donations.

"When we can give them the support they need," said Sylvia Sensiper, director of the Guardian Professions Program at UC Davis, "it's amazing what they can accomplish."
Secondary Categories